Join us for a day dedicated to gathering with fellow sisters, developing new skills, learning from renowned experts, and doing your part in creating a just, peaceful, and inclusive world.
The time to act is now. The future is in our collective hands.
What You Can Expect:
– Keynote presentations on fighting hate and building strong, inclusive communities
– Workshops focused on five key areas of social justice and responding to hate
– One-on-one sessions dedicated to meeting fellow community members from around the world
– A virtual vendor fair, featuring dozens of Muslim and Jewish artists, artisans, and small businesses
– Laughter yoga
– Special musical performance
-Sharing our Sisterhood stories
-Special guest appearances
– And much more!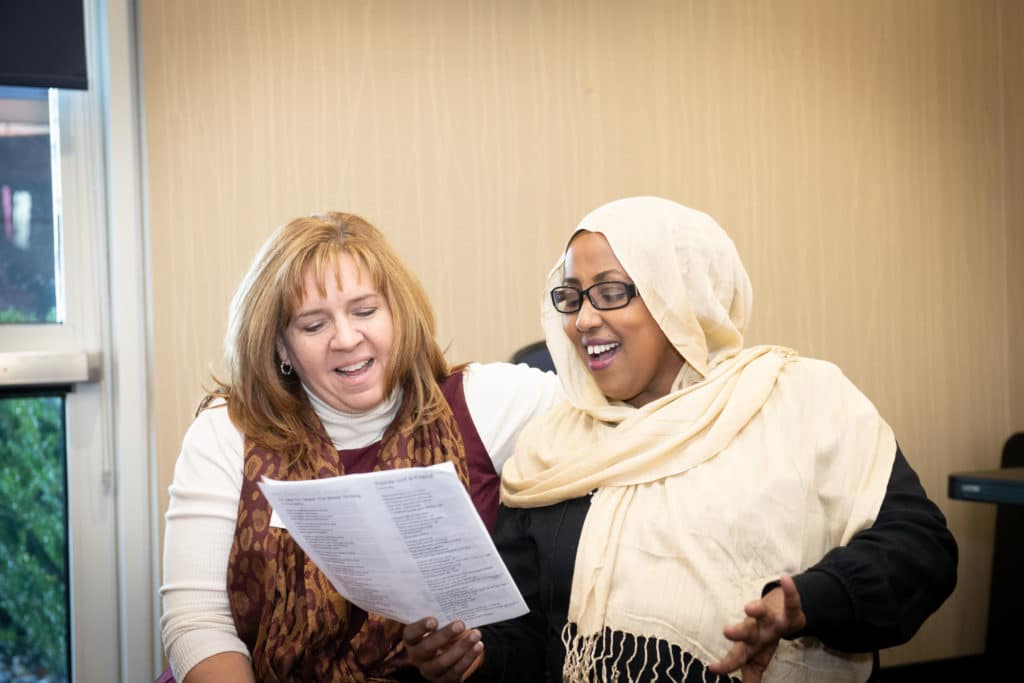 One of the most senior African American Muslim women attorneys working in federal government, Raheemah Abdulaleem currently sits on the Board of Directors of KARAMAH: Muslim Women Lawyers for Human Rights.
Raheemah serves as Acting General Counsel in the Executive Office of the President, Office of Administration, advising on equal employment opportunity law, fiscal and appropriation law, personnel security, and litigation. Previously, she worked in the U.S. Department of Justice and served two terms with the DOJ's Association of Black Attorneys. She routinely speaks about her experiences as a racial and religious minority and advocates for diversity, tolerance, and the importance of community.
Yavilah McCoy is the CEO and Executive Director of DIMENSIONS Inc, a nonprofit that provides training and consultancy on equity, diversity, and inclusion.
Yavilah has spent the past 20 years partnering with Jewish and multi-faith communities designing practices that enable individuals to explore differences through allied engagement. Her work has brought resources to Jewish organizations focused on the need for greater inclusivity and awareness of the multi-dimensionality of Jewish identity. She is an educator, activist and spiritual teacher. 
"It's exciting to connect and learn with so many Muslim and Jewish women who care about each other and our communities and who stand together against hate, discrimination and bigotry." ~Beth
"After meeting and listening to so many inspirational speakers at the conference, who themselves are inspired by the work of the Sisterhood, I feel extreme admiration for these strong, focused women." ~Aniya
Sponsoring Together We Rise enables our conference to be accessible to the greatest number of people possible, allowing supporters to join us from around the globe as we spend the day learning from experts and engaging in this critical work.
Since 2014, our annual conference has been the largest, North American-based gathering for Muslim and Jewish women and allies seeking to build community, develop skills, and advocate for an end to discrimination, prejudice, and hate. Your support helps ensure that conference attendees will take home new tools to further prepare themselves to advocate, educate, and become leaders on the front lines against ignorance and bigotry.
Through joining us as a sponsor for Together We Rise, you're signaling your commitment to interfaith engagement, to building just and inclusive communities, and to seeking peace, not only to our nearly 1,000 conference attendees but to all who participate in our work.
Purple~ $500
Logo/website link on conference website, digital conference web platform, social media, and marketing materials

2 tickets to attend conference
Bronze~ $1,500
Same benefits as above, plus

Listed as workshop sponsor on conference materials and digital conference web platform, including in digital "room" used for said workshop

4 tickets to attend conference
Silver~ $2,500
Same benefits as above, plus

Listed as sponsor for two workshops on conference materials and digital conference web platform

6 tickets to attend conference
Gold~ $5,000
Listed as sponsor of keynote speaker

Prominent logo placement on conference website, digital conference web platform, and in marketing materials

Social media shout out

8 tickets to attend conference
Platinum~ $10,000
Listed as General Conference Sponsor

Premium positioning and sizing of logo on all materials

Social media shout out

Acknowledgement by co-founders at conference opening

10 tickets to attend conference
*Special Sponsors for the "Combatants Rising Together" Workshop
"There is something in the air--the sense of power and possibility--I always leave the conference feeling energized, inspired, and ready to take on the world." ~Lisa