An Evening With Hanan Barag from Machsom Watch
September 7, 2022 @ 7:00 pm

-

8:00 pm

EDT

$10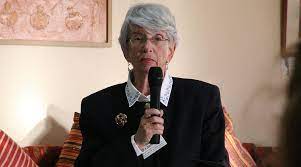 Hanna Barag, an active member of Machsom Watch for over 20 years, returns as a speaker for the Sisterhood. Machsom ("barrier" in Hebrew) Watch is an organization of women against the occupation and for human rights. Hanna will discuss her work that supports Machsom Watch's goal to end the occupation and why women doing this work can be especially effective. A great storyteller, Hanna will share some of her fascinating family history and life experiences that helped shape her outlook and work. Please join Board President Roberta Elliott in conversation with Hanna Barag – this is one event you won't want to miss!
Hanna Barag has been a member of Machsom Watch since 2002. A retired conference organizer, the mother of two and grandmother of five, she was born in Haifa and is now living in Jerusalem.
She describes her role in Machsom Watch as a kind of human-rights "diplomat" for the organization, liaising with all the relevant authorities, including the IDF (Israeli Defense Forces) and the Civil Administration, in order to solve problems for Palestinians whose rightful freedom of movement is abused. Hanna has dealt with thousands of desperate situations caused by the Occupation and its Draconian bureaucracy. Those who contact her know that if she thinks their case is plausible, she will bang on doors until a solution is found for their problems.