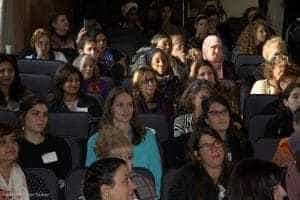 Register Today while seats are still available! Several hundred women will gather at Drew University on December 4 for the 2016 Sisterhood of Salaam Shalom® Leadership Conference! Conference is sold out
"I attended the Sisterhood of Salaam Shalom® Muslim Jewish Women's Leadership Conference together with my 16-year-old daughter. I knew it would be a transformative experience for her, but I didn't realize how much it would affect me as well. I feel hopeful that I can make a difference because I can build upon the real relationships that I made at the conference. As a mother, I am proud to raise my daughters to know and love their neighbors."
We will come together for our third annual conference on December 4, 2016 at Drew University, and you are invited to be a part of this amazing gathering. Join the hundreds of Muslim and Jewish women who have already registered.  Stay tuned to our website and our Facebook page for special announcements!.
At the conference, participants will be able to:
Meet other Muslim and Jewish women from throughout the United States
Learn from the Muslim and Jewish female leaders who are changing the world
Share in best practices on Muslim-Jewish dialogue and relationship development
Participate in workshops (a selection of over 20 options) facilitated by leaders in interfaith dialogue end engagement
Develop skills in order to become a stronger advocate of building relationships between Muslims and Jews
Learn what you can do to stop anti-Muslim and anti-Jewish acts of hate
Presenters for 2016 include:
Rana Abdelhamid
Shagufta Ahmed
Nadia Ansary
Rabbi Justus Baird
Robi Damelin
Rabbi Amy Eilberg
Mirele Goldsmith
Salma Hasan Ali
Mona Haydar
Sharida Hussein 
Rabbi Marisa James
Arzu Kaya-Uranli
Amber Khan
Daisy Khan
Rabbi Nancy Fuchs Kreimer
Rohina Malik
Rabbi Rachel Grant Meyer
Janet Penn
Alina Cheema
Sameera Qureshi
Amanda Quraishi
Joyce Schriebman
Brenda Shaffer
Ambereen Shaffie
Zarinah Shakir
Dilanz Waraich
Milana Vayntrub
Kat Vizcaino
Homayra Ziad
Presentation of the Salaam Shalom award to Zaid and Haifa Kurdieh
The 2016 conference is a partnership between the Sisterhood of Salaam Shalom® and the Drew University Center on Religion, Culture and Conflict. It is also cosponsored by the Foundation of Ethnic Understanding (FFEU) Women's Weekend of Twinning. Conference is sold out.