Director's Note
March has been a busy month here at the Sisterhood of Salaam Salaam. Our members have been featured in the news from Washington State to Virginia to New York and beyond, and most recently, our teen chapters were featured in national and international outlets!
March has also seen a rising up of the next generation, a capable group of young men and women ready and willing to fight for their rights, including their right to safety, and for the sake of peace and hope. We hope their message and voice can inspire us all.
Finally, we have launched the first in a series of training videos aimed at facilitating successful leadership and relationship building, as well as modules dedicated to facilitating meaningful dialogue, examining religious texts, and more. Please visit the Video Library on our website the first in the series of videos, "Engaging in Difficult Conversations."
We welcome your feedback and hope you will send individual and chapter updates to [email protected].
In Sisterhood,
Sheryl Olitzky, Co-Founder and Executive Director
---
Interfaith Day of Service in Virginia
In honor of Martin Luther King Day and the Reverend's commitment to service, the newly formed Arlington/Alexandria chapter of the Sisterhood, led by chapter leaders Natalie Roisman, Fatima Argun, and Julie Rosenberg, joined forces with several hundred volunteers in Northern Virginia for a day of giving back to the local community. Natalie Roisman recounts the experience.
---
Teens Are Coming Together to Speak Up Against Hate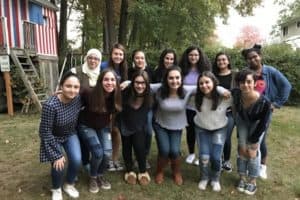 Olivia Rotter is passionate about the work of the Sisterhood of Salaam Shalom®. After attending the annual conference in November and witnessing firsthand how transformative the experience of interfaith exchange can be, she set out to bring the mission and model of the Sisterhood to a new community- that of teenage girls. In describing her experience of co-leading a teen chapter in her hometown, she says, "I wanted my own Jewish community to see the power of togetherness and to recognize our strong similarities with Muslims…Ultimately, I wanted to break racial and religious barriers within my community — and that is exactly what we are doing when my chapter meets." In honor of International Women's Day, Olivia chronicled her experience in Teen Vogue.
From laughter and food to leadership and friendship. New York based journalist Shachar Peled chronicled the experience of the new teen chapters, as well as the inspiration they found in adult female counterparts, for English-language Israeli newspaper, Ha'aretz. The teens spoke of their desire to learn about one another's religious traditions, to influence their communities, and to educate others about seeking commonalities. See what they had to say in, "The Kids Are Alright."
---
If Jews and Muslims in New Jersey Can Bond, So Can the World
Recently, Heba Macksoud, a chapter sister in New Jersey and a member of the Board of Directors, reflected on her  experiences with the Sisterhood. She spoke of breaking down stereotypes, building bonds within a diverse group of women, and of course, the importance of celebrating holidays with food.
In her own words, Heba says, "I often hear from people that they are not happy with the current state of divisiveness that has plagued our country, but they are not sure what they can do about it. The Sisterhood of Salaam Shalom® has created a framework for women to bond together and then commit to resolving some of this hateful rhetoric." Read more of Heba's story in an op-ed written for The Star-Ledger.
---
Speaking Up in Spokane 
Bonnie Mandel didn't grow up in Spokane, Washington, but living there, she missed the diversity and and cultural exchange of her hometown. After hearing about the Sisterhood, she found a partner in Saima Ahmad, a woman she knew professionally, and together, they formed a Sisterhood chapter. This month, Bonnie wrote about her Sisterhood journey, eye-opening, intra- and interfaith dialogue, and developing a community of new, female friends, for The Spokesman-Review.
---
Courage and Understanding in Canada 
In a recent editorial for Global Citizen News, Edmonton chapter member Naz Qureshi spoke of the importance of sharing one another's stories, both personal and cultural, as a form of engagement and relationship building. She explored the role of dialogue as a tool for transformation and acknowledged that empathy, courage, and understanding–both the desire to be understood and the desire to understand–drive successful Sisterhood interactions.
---
Upcoming Events
Regional Trainings: Skills for Engaging in Difficult Conversations
June 24: Raritan Valley Community College, Branchburg, NJ
September 16: Highland Park Country Club, Highland Park, IL
October 14: Interfaith Ministries, Houston, TX
Stay tuned for upcoming dates and locations in Philadelphia and Kansas City!
National Conference
Mark your calendars! Please plan to join us on Sunday, November 4, 2018 at Delaware Valley University in Doylestown, Pennsylvania (outside of Philadelphia). A special pre-conference concert and dessert reception will take place on the evening of November 3.
Early Bird registration will be opening in April. Keep an eye on our Facebook page for details!