In the spring of 2021, the Sisterhood convened its inaugural cohort of the National Teen Leadership Board. During the 2021-2022 school year, this select group of teens will collaborate with peer leaders from across the country to design and implement programs where fellow Jewish and Muslim girls can come together, learn about one another, and explore the intersections of their identities across faith, ethnicity, race, nationality, and other lines of difference.
National Teen Board members will receive training from experts in various fields within the nonprofit sector and cultivate leadership and cross-cultural communications skills. They will gain valuable insight into the workings of a women-led organization and spearhead teen-designed and teen-led projects that will contribute substantially to the future of the teen Sisterhood program. Ultimately, their work will craft pathways for themselves and other young leaders to build bridges of interfaith understanding and use those relationships as a foundation upon which they can work collaboratively toward the establishment of more inclusive, peaceful communities.
   *    *   *    *    *
Our inaugural board members hail from eight states and fourteen towns and cities. Board members include girls born in Turkey, Pakistan, Libya, India, and the U.S., to name a few, as well as girls with diverse ethnic, religious, and racial backgrounds. We look forward to working with them and witnessing their evolution as leaders in the coming months.
2021-2022 National Teen Leadership Board
Sakinah Ahmed is a junior in Bridgewater, New Jersey. She is a Muslim teen and plays field hockey at her high school. She enjoys painting, writing poetry, playing the violin, and spending time outdoors. At school, Sakinah helped create a Muslim Student Association in order to teach others about Islamic issues around the world and combating Islamophobia. She participates in the Sisterhood in order to connect with other Muslim and Jewish teens and learn more about both religions. She enjoys making new friends and being a leader within her community. As a National Teen Leadership Board member, she hopes to gain more leadership skills and be an active part of the Sisterhood. She looks forward to working with fellow Muslim and Jewish sisters!
Raghad Alfeen is a senior and lives in Doylestown, PA. She is Muslim and enjoys drawing. She participates in the Sisterhood because she wants to meet more people and learn about the Jewish faith. She hopes to be part of a bigger change as a member of the Board.
Rose Clubok is a senior at the Columbus School for Girls, where she is a National Thespian and sings in Grace Notes. Rose is Jewish, and is passionate about Jewish identity, Jewish history, and solidarity between marginalized groups. Outside of school, Rose develops curriculum for and teaches at her synagogue's religious school, and leads the Ohio chapter of Sisterhood of Salaam Shalom. She also develops inclusive and diverse curriculum as a member of the Diversify Our Narrative National Curriculum Board, and she received JewishColumbus's 2019 Twelve Torches Award for her work as a Jewish educator. In her free time, Rose likes to listen to music and hang out with friends. Rose participates in the Sisterhood because she believes that building bridges between identity groups can lead to greater solidarity and understanding, and she hopes to continue this work with the National Teen Leadership Board through outreach, programming, and education.
Feride Cosar is a Muslim teen living in New York City and a sophomore attending Manhattan/Hunter Science High School. She enjoys writing monthly articles for her school's newspaper and hanging out with friends in the city! She love to read novels, listen to Turkish soft rock bands, draw/paint, and take pictures of her surroundings. Yearly, she joins the Scholastic Art and Writing Awards to see what other artists and writers around the country have created. Her favorite food is Mediterranean food, given that she adores her grandmother's home cooking and was born and raised in Turkey. She was introduced to Sisterhood of Salaam Shalom during the 2019 Annual Sisterhood Conference in 2019. Collaborating with her co-leader, friends, and mentors has been a very insightful experience. By being part of the National Teen Leadership Board she hopes to present new ideas, add depth to her networking skills, and form a stronger relationship with the people in the Sisterhood.
Sarah Feinberg is a junior from Massachusetts and the Jewish co-leader of the Greater Boston Area teen chapter of the Sisterhood of Salaam. She is very excited to be a member of the National Teen Leadership Board! Outside of the Sisterhood, Sarah writes for her school's newspaper and is a member of the Diversity, Equity, and Inclusion committee at her school. In her free time, she enjoys reading, baking, and hiking. After attending the annual Sisterhood conference in 2020, she immediately wanted to become more involved with the Sisterhood. During her time with the Sisterhood, she has learned so much about the impact of bringing members of the Muslim and Jewish communities together to learn from each other and fight against hate. As a member of the Board, she hopes to help provide opportunities for building connections and creating meaningful experiences.
Sadie Goldman is a senior in the Phoenix/Scottsdale chapter. She identifies as a Reform Jew. Sadie is an avid mountain biker and enjoys playing piano and painting positivity rocks for her neighborhood! She is the president of her school's mental health awareness & social/emotional wellness club, for which she was recently named a 2021 City of Tempe Changemaker. She leads her school's community service club and is a member of the Language and National Honor Societies.
Sadie participates in the Sisterhood because it allows her to cultivate friendship and self-confidence and learn about different perspectives. She is excited to be a National Teen Leadership Board member because she can connect with likeminded people to work towards a healthier and safer world. She also looks forward to gaining more leadership skills. The Sisterhood is always a welcoming environment and Sadie feels blessed to be a part of it.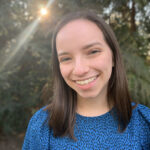 Mayan Harris-Gershon is a senior in high school. She is a part of the Jewish community in Pittsburgh, her hometown. She has a passion for learning which leads to a lot of miscellaneous interests including crafting, linguistics, sustainability, and music. As a part of the National Teen Leadership Board, she hopes to engage with teens on a national platform in order to create strong communities. Most of all, she is excited to connect with her fellow teens in the upcoming year.
Chava Herniter is a Jewish junior from Highland Park, NJ. She loves art, specifically projects relating to textiles, and baking. She enjoys discovering new art styles, like book folding, which she recently learned. She also knits and crochet baby blankets, which she donates to hospitals for newborn babies. She interns at a plant genetics lab at Rutgers.
The Sisterhood is filled with girls from all different backgrounds that are genuinely interested in learning about each other and helping the community. Chava is proud and honored to be able to participate in such a strong community. As part of the National Teen Leadership Board, she hopes to help foster these amazing relationships and help her community in ways she could not before.
Drew Kolber is in 12th grade at the Herberger Young Scholars Academy on the Arizona West Campus. She has a passion for writing, social justice, and the intersection of the two. She is active in local and national interfaith movements, and is the co-founder and Jewish co-leader of the Phoenix/Scottsdale teen chapter of the Sisterhood of Salaam Shalom. Drew has a love for poetry that was instilled early on, and this passion carried her to the Poetry Out Loud state competition, as well as the 2021 International Thespian Festival. Drew is also an applicant in the Rise Challenge, a global opportunity for 15-17 year olds to "identify a calling, shape a personal challenge, learn deeply, develop a solution, and make it a reality."
Beyond these competitions, Drew loves to look through a descriptive lens and actively seeks out mentors and conversations that expand her vision of the world. A big part of this is the Sisterhood; Drew has a core value around fairness and shared understanding and has found in the Sisterhood a wonderful and supportive community that wants to actively work towards those goals. As a member of the National Teen Leadership Board, Drew hopes to aid in creating meaningful programming for Sisterhood teens, as well as to help build relationships between the Sisterhood teen chapters and other youth interfaith organizations and projects (for example with the Interfaith Youth Core and the Cynefin Center). Drew is grateful for all those in her life who support her and encourage her to keep learning.
Sabrina Lateef lives in Pittsburgh, PA and is in the 11th grade. She is the Muslim co-leader for the Pittsburgh teen chapter. She loves reading books, playing field hockey, and bothering her cat, Butter. She loves the community that the Sisterhood creates, and she enjoys meeting new members and leaders! She hopes that by being on the Board, she can contribute creative ideas and give helpful input!
Warishah Qandil is a senior from Rhode Island! She is a 16 year old Muslim teen and an avid reader. She is a brown belt in Martial Arts and loves science! She is passionate about giving back to her community and co-created the Wonder Journal, which is a set of homemade activity books that she and a friend distribute every other month to the Hasbro Children's Hospital. She also volunteers at a local hospital weekly. At school, she is part of the National Honor Society, Spanish Honor Society, Social Concerns, and Women in STEM.
Warishah chose to participate in the Sisterhood to not only make friends, but to also learn about another religion and participate in community service. Ever since joining Sisterhood of Salaam Shalom, she has felt more confident, not only in herself, but in her religion as well! As a National Teen Leadership Board member, her main goal is to help others appreciate their background and their role in our world through communication.
Wasan Rafat is a Muslim teen leader and a junior from Newton, Massachusetts. She is very interested in social justice, public policy, and biomedical science. At school, she is a member of the Debate Team, which has enhanced her public speaking and advocacy skills.
She became involved with the Sisterhood because she understands that the divide between Muslims and Jews has become wider and more intense with current events. Living in a predominantly Christian and Jewish neighborhood, she has seen hate permeate every facet of her life. Unfortunately, she has also seen Jewish sisters face hate for their religion as well. She knows that in this conflict, no side is right or wrong. Everyone is human, each with her own beliefs and the right to make her own choices. Wasan chooses love. Through the Sisterhood, she wants to be on the front lines, spreading peace and changing the conversation from the ground up.
Talia Rosen is a Jewish 12th grader from Pittsburgh, PA. She is an active member of the Pittsburgh Friendship Circle and the treasurer of her school's Student Council, and she love to bake.
In 2018, she joined the Pittsburgh teen chapter of Sisterhood in its first year of existence, and this past year, she became a chapter co-leader. Participating in the Sisterhood is important to Talia because it allows her to learn about girls her own age who come from different backgrounds and also make great friends along the way. Perhaps one of her favorite parts about chapter meetings is when members draw connections between Islam and Judaism and are able to discuss similarities and differences. As a member of the National Teen Leadership Board, she hopes to plan interesting and challenging programs where participants can create meaningful connections.
Zara Salahuddin is the Muslim co-leader for the Woodlands, TX teen chapter of the Sisterhood. She is a sophomore in high school and on the track team, where she runs hurdles, recently placing second in the district. She enjoys watching scary movies and hanging out with friends.
Zara is honored to not only be part of the Sisterhood but also to be a co-leader and on the National Teen Board. She looks forward to collaborating with new people and forming lifelong relationships!
Maryam Syed is a South-Indian Muslim from Kerala, India. Currently, she lives in Bridgewater, New Jersey. She is a sophomore in high school and enjoys soccer, swimming, and basketball. She participates in the Sisterhood because she enjoys working with different groups of people who hope to make a positive, lifelong impact through nonprofit organizations. She hopes to collaboratively work closely with peers and participate in events together.