Director's Note
We are still riding the wave of hope and energy resonating from our 6th annual gathering, which took place November 1-3. We spent the weekend with an incredible group of women and teenage girls and returned home inspired by your enthusiasm, generosity, and support of one another. Read on for a recap of the conference and the first details of our 2020 gathering.
We are thrilled and honored to announce that the Sisterhood of Salaam Shalom is the recipient of two, prestigious, international awards, further confirmation that the work we do matters, not just to our chapter members, not just to our supporters, but to a much wider community desperate to support our mission.
Our teen movement was featured at our annual conference in the premiere of a mini-documentary highlighting the service work our teen chapters did in cities as diverse as Memphis, Austin, and West Hartford. They are a rising generation of leaders-in-training ready to make a difference in their communities and demonstrate, through word and deed, that hope is greater than hate and friendship greater than fear.
Finally, we are looking forward to our 2020 Building Bridges trip, which was officially presented at the conference. Registration for this January 2020 trip to the U.S.-Mexico border will open November 18th at 7pm EST and will fill up quickly. Please see the details on that announcement and the registration process later in this newsletter.
As always, we welcome your feedback and hope you will send individual and chapter updates to Samantha, our Director of Chapter Expansion and Teen Engagement, at [email protected].
In Sisterhood,

Sheryl Olitzky, Co-Founder and Executive Director
---
Sisterhood Wins Major Awards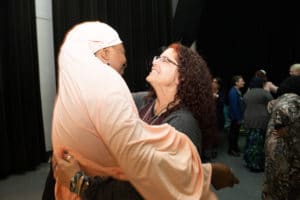 The Sisterhood of Salaam Shalom is thrilled to announce that we are among ten awardees selected by the United Nations Alliance of Civilizations (UNAOC) and BMW Group for the 2019 Intercultural Innovation Award. This process drew over 1,200 applications from 128 countries from organizations that have committed to "contribute to peace, prosperity, and building more inclusive societies." We are honored to be the only US-based organization to be selected for the award. Throughout the year, we will be receiving financial support, opportunities to participate in training and workshops and membership to the "Intercultural Leaders" network. The UN Intercultural Innovation Award ceremony will take place in Madrid, Spain in December. You can read the full press release on the UNAOC website.
We are also pleased to announce that the Sisterhood is a recipient of the 2019 EVZ Foundation Award for Jewish-Muslim Solidarity. Presented annually to one organization in the United States and one in Germany, the EVZ Foundation, together with the Kreuzberg Initiative against Anti-Semitism, will honor the Sisterhood of Salaam Shalom for our work to bring together Jewish and Muslim communities and to provide support for further understanding among these groups.
---
Recap of our 2019 Annual Gathering
Earlier this month, over 300 Muslim and Jewish women and teen girls convened on Delaware Valley University for a full weekend of programming at our sixth annual gathering! We had women joining us from as far away as California, Texas, Florida, Wisconsin, Canada, and Germany! We spent the weekend together learning, praying, creating and building new relationships!
Friday kicked off with a day of service thoughtfully arranged by Morris County chapter co-leader, Beth Turetsky. The projects supported First Friends, an organization helping asylum seekers in New York and New Jersey and A Woman's Place, a domestic violence shelter in Bucks County. Our regional coordinators attended a full-day workshop led by Janet Penn and Sarah Haider, and everyone joined the welcoming, local community of Temple Judea for Friday night Shabbat services and dinner. Saturday offered Shabbat services and lunch, and optional art projects and casual afternoon get-togethers before the Saturday evening concert and dessert reception. The concert highlighted the inspirational Interfaith Music Project of Philadelphia.
Sunday was the big day, and despite the cold, the doors were open wide early in the morning to welcome everyone for a day of affirmation, learning, and community building. Keynotes featured powerful spoken word artist and poet Hannah Hasan and Alma Hernandez, of the Arizona House of Representatives. While Alma told the inspiring story of her childhood and journey into politics, she struck a particular chord with our teen attendees and took time during workshops to visit and speak with them individually about their hopes, fears, and dreams. Women chose from a dynamic list of workshops for more intimate learning, and in the afternoon, panelists Farah Pandith and Hannah Rosenthal spoke openly and honestly about their experience as special representatives combating Islamophobia and anti-Semitism under the first Obama administration and their role as leaders and friends. The day's events also featured several eloquent and moving messages from our teen leaders in Rhode Island, Pittsburgh, and New Jersey, an informative presentation by the U.S. Census Bureau, and interactive breakout sessions led by Rachel Baldi and Tina Meyers. You can check out a photo collage by visiting the 2019 Conference page on our website.
Sisters are already planning on attending next year.  Hold the date for next year's conference, November 13-15, 2020. More details to come!
---
Teen Chapters Join Forces to Serve Local Communities
In the past year, our teen chapters have quadrupled in number and are now in a dozen cities across the United States. Similar to adult chapters, these groups allow Muslim and Jewish teen girls to meet regularly, develop friendships, and join forces to stand against hate and prejudice.
This spring and summer, many of our teen chapters participated in a special grant offered by the Facebook Community Leadership Program.  This allowed the teens to attend leadership training sessions, receive scholarships to attend our annual gathering, and developing mini-grants. Using these grants, each chapter proposed, planned, and implemented a service project designed to address an identified injustice in a local community. Projects included building an outdoor classroom at a local elementary school, building a lending library of books focused on interfaith and cross-cultural awareness and highlighting Muslim and Jewish protagonists, writing and teaching a 'getting to know others' curriculum with local Muslim and Jewish students, and collecting toiletries and supplies for refugees. In each case, the girls themselves chose the need, created an appropriate project, and carried out the project themselves.
As part of the Facebook Community Leadership Program, we were able to create a mini-documentary chronicling the experiences of some of our chapters in connection with their mini-grant projects. We premiered the film on Sunday afternoon at our annual gathering. What is clear, from the documentary, the girls' efforts, and the thoughtful, passionate teen presenters who spoke on Sunday, is that our teens are leaders in their communities, committed to each other and committed to changing the world around them. If you missed the documentary on Sunday, please feel free to check out the video here, and join us as we celebrate our youngest leaders and our hope for the future.
---
Save the Date for our 2020 Building Bridges Trip to the U.S. Southern Border
On Sunday, November 3, we officially announced our 2020 Building Bridges trip to the border, which will take place January 26-31, 2020. Our sisters will visit the Tucson sector of the U.S. Border to learn about the situation on the ground, including the laws and policies governing U.S. entry and the tools need to advocate for those seeking refuge. This trip will serve as preparation and empowerment for a corps of women leaders to take future positive action on behalf of asylum seekers, refugees and migrants when we return to our respective cities. We will ensure that we can carry out "he/she who saves a life, is as if they have saved the world."
Registration will open through a link published on our website on November 18th at 7 p.m. EST. An email will go out at that time with a link to the registration page. In past years, all 50 registration spots have filled up within the first few hours, so if you're interested, please make sure you sign up as soon as registration opens. We look forward to taking this journey with you and learning about the state of immigration in this country and the role we can all play in helping those in need and supporting change.