Director's Note
It has been a busy first few months of 2019, with regional trainings, preparation for our Building Bridges trip, and increased resources and opportunities for learning and connecting!
We are dismayed and disturbed by recent attacks on our houses of worship. These acts of cowardice go against everything we stand for and are devastating to our shared communities. They also highlight that the work of the Sisterhood is as critical now as ever. We reaffirm our commitment to focusing on dialogue and engagement and to fighting hate. Toward that end, we are launching a Sisterhood-wide webinar series called Rise & Respond, which will help train you to identify and respond to acts of hate in your own communities. Preparations are underway for our annual conference, which will also be focused on Rise & Respond, and we are providing additional resources so chapters can coordinate efforts across and within regions.
On individual and chapter levels, we are heartened by your efforts to build friendships, break down barriers and work to end hate. From shared holiday meals to service work to educational programming, you are leaders in your communities. We are so grateful for the work you do every day to carry forth our mission.
As always, we welcome your feedback and hope you will send individual and chapter updates to Samantha, our Director of Chapter Expansion and Teen Engagement, at [email protected].
In Sisterhood,

Sheryl Olitzky, Co-Founder and Executive Director
---
Rise and Respond Training Webinar- June 17th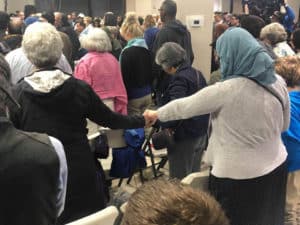 Join us for a webinar on Monday, June 17th from 8:00-9:00 pm EST. The focus is on small, targeted actions you can take to have a direct impact following an incident of hate. This webinar is open to ALL chapter members. Pre-registration is required.
If you are unable to attend the session on June 17th, you can register for a repeat session with the same content on Wednesday, June 19th , also from 8:00-9:00 p.m EST. Again, pre-registration is required.
Please register for only one webinar and encourage all sisters in your chapter to take part!
The webinar will be led by Sarah Haider, Assistant Director of Chapter Management and Janet Penn, Director of Regional Coordinators, Resource Development and Training.
For a more detailed plan and comprehensive guide, check out the Rise and Respond guide on our website.
---
Save the Date for Our Annual Sisterhood Conference
We are excited to announce that our annual conference will take place on November 3, 2019, with optional, add-on days on November 1 and 2. We will be returning to Delaware Valley University in picturesque Doylestown, Pennsylvania. This year, due to your feedback, we will be offering three days of programming- our traditional, full-day conference on Sunday as well as additional events on Friday and Saturday. You will be able to choose to attend a day of service and Shabbat activities on Friday, an interfaith concert and dessert reception on Saturday evening, and our regular day of workshops and speakers on Sunday. Look for an official announcement with links to register and early bird pricing coming to your email in mid-June!
---
Sisters Celebrate Spring Holidays
One of our favorite activities is sharing holiday celebrations! Please enjoy photos, submitted by several chapters, of sisters enjoying Passover and Ramadan meals. These are a wonderful opportunity for sisters to learn from one another and to participate in each other's religious traditions.
Has your chapter had a recent exciting or meaningful group experience? Please feel free to share with Samantha at [email protected] for possible inclusion in an upcoming newsletter or on our website. Keep your stories and photos coming!

---
New Members of the Sisterhood Team
We have seen a tremendous surge in requests both to join chapters and to receive resources and opportunities for learning and community building. To help meet these demands, we have recently added several new people to our staff. Please welcome Ilene Potashman Cohen as Development Director, Sarah Haider as Assistant Director of Chapter Management, and Nadia Nasim as Administrative Assistant. Janet Penn has expanded her role to Director of Regional Coordinators, Resource Development and Training. We hope these changes will help us better meet your needs!
We recognize that many of you have expressed the desire to be able to coordinate efforts and programs across your region. In response, we are excited to announce the introduction of a pilot program of Regional Coordinators!
In 2019, these volunteer coordinators will work in eight regions across the United States and in Canada. We hope to be able to expand the program to serve additional regions in coming years. Initially, we will have regional coordinators in the San Francisco Bay area, Pennsylvania, New Jersey, Metro New York, Toronto, greater Chicago, Houston, and Sacramento. Sarah Haider will be dedicating her time to provide guidance and support to existing chapters not currently in a pilot region. These chapters can reach Sarah at [email protected].