Director's Note
The first months of 2020 have been challenging, beginning with hate attacks targeting Jews, followed by the arrival of a global pandemic. The Sisterhood of Salaam Shalom has responded to each of these challenges, bringing members together to provide a safe place for support, spiritual growth, and solidarity. Together, we have raised spirits and continue to fight hate, because physical distancing does not have to mean social separation!
Now, more than ever, our connections to one another are our unique strength. Please consider a donation to help co-create the future of the Sisterhood of Salaam Shalom. As always, we welcome your involvement and input. Contact Samantha, Assistant Director, with any feedback or questions- [email protected].
Sheryl Olitzky, Co-Founder and Executive Director
---
Spiritual Connection- the Sisterhood Response to COVID-19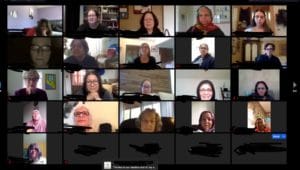 The arrival of a global pandemic in the form of COVID-19 has upended our daily lives. The staff and dedicated volunteers of the Sisterhood of Salaam Shalom leaped into action to provide connection and support to sisters, their families, and their communities.
The Sisterhood has convened community-wide digital gatherings open to all Muslim and Jewish women and teenage girls. These have included healing and meditation sessions and gatherings on celebrating Passover and Ramadan during the pandemic. During Ramadan, we are providing weekly Thursday afternoon gatherings dedicated to specific themes. On May 28th, join us for a gathering to learn about revelation in Judaism, in conjunction with the festival of Shavuot, and in Islam. Future online community programs will focus on pastoral care, responding to hate and bigotry, and other themes. Please email [email protected] for details. We'll see you soon!
---
Join Us at Upcoming Events!
On May 18th at 2:30 p.m., join the Sisterhood of Salaam Shalom, New Ground, the Muslim Jewish Advisory Council, and Interfaith Ventures as we Raise Our Voice during a Muslim-Jewish and allies event for Interfaith Solidarity and Resilience. Register here!
Save the date of November 15, 2020 as we take this year's annual Sisterhood conference digital! Recognizing that the uncertainty surrounding COVID-19 presents an unprecedented opportunity, we are opening the conference to a much broader segment of the Sisterhood community by offering our entire annual conference as a digital experience! Stay tuned for announcements on presenters, workshops, and opportunities to meet sisters from all over the world!
Join us online for upcoming Sisterhood events~
May 7- Ramadan Reflections
May 14- Ramadan Reflections
May 18- Raise Our Voice Event for Interfaith Solidarity and Resilience
May 21- Ramadan Reflections
May 28- Online Study and Community Gathering: Revelation in Judaism and Islam
November 15- 7th Annual Sisterhood Conference Gathering
Email [email protected] for details!
---
Teens Use Time at Home to Connect and Share Reflections
Our teens have connected through Zoom gatherings, sharing how they're adapting to life during COVID-19 and offering support as they navigate observing Passover and Ramadan in relative isolation.
Aneesa Saha and Naomi Meininger, teen co-leaders of a New Jersey chapter, have created a series of short educational videos. The first three in the series focused on Passover, Ramadan, and the connection of faith to mental health. Those videos can be viewed on our website.
We are continually amazed and encouraged by the work of our teens. To our graduating seniors, congratulations on your achievements, and best of luck in your next adventures! To all our teens, thank you for offering us inspiration and hope!
---
Opening Our Tent and Changing the Course of Hate
While chapter membership is at the heart of what we do, we have expanded programming so that all Muslim and Jewish women and teenage girls, both those in chapters and members-at-large, can join initiatives dedicated to building relationships and fighting hate domestically and abroad.
We are excited to announce the formation of several new task forces and committees, each created in response to a specific manifestation of hate. They focus on addressing hate against Muslim minorities in India and China, demanding justice for and assisting refugee and asylee seekers in the United States, and developing a coordinated response to acts of hate targeting our faith groups. Contact [email protected] to learn more about opportunities for involvement. Together, we can change the course of hate.
---
The Sisterhood Sponsors Event Marking Israeli-Palestinian Memorial Day
The Sisterhood of Salaam Shalom commits to working with individuals and organizations dedicated to nonviolent means of achieving peace and justice. Our faith traditions inspire us to believe that any response to the Israeli-Palestinian conflict must be based on human rights, security, and self-determination for Palestinians and Israelis alike. To that end, on April 27th, the Sisterhood was a proud sponsor of the largest ever peace event organized by Combatants for Peace and The Parents Circle – Families Forum.
---
Please Donate to Co-Create the Future of the Sisterhood
Click here to donate to the Sisterhood
A letter to you from Nazli Chaudhry, Sisterhood of Salaam Shalom Board Member
Blessings of Peace, Salaam and Shalom,
We are living in unprecedented times during the COVID-19 pandemic. We have been rethinking how we can stay safe and healthy yet maintain the social caring and community we crave as human beings.
The Sisterhood of Salaam Shalom has solved that problem for us by taking steps to maintain and strengthen our social connections. We have had regular bi-weekly open meetings – each attended by over 100 sisters! And, the Sisterhood is making Zoom available to all chapters to continue their meetings online.
I am infinitely grateful that I can continue to stay in touch with my sisters, whom I rely upon for strength and hope. We all have benefitted so much from being part of the Sisterhood family, and we are fortunate to help sustain it during this challenging time.
The Sisterhood's funding sources are uncertain as philanthropists reassess and grants are put on hold. I invite you to join me in co-creating the future of the Sisterhood of Salaam Shalom and by participating fully – whether as a chapter member or member-at-large – to continue building strong, meaningful relationships.
In peace,
Nazli Chaudhry