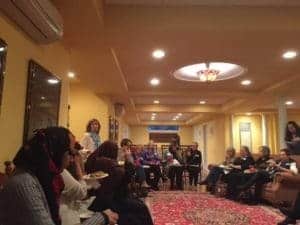 You asked and we responded!  After each annual conference, we receive several requests for us to organize regional meetings.  We were finally able to host a regional meeting last Thursday in New Jersey.  It was a wonderful opportunity for the women from eight New Jersey chapters to meet each other.  It was also an opportunity for us to update our chapter members on the Sisterhood's progress.
Not surprisingly the evening went by too quickly.  It is always amazing to me that when the women of the Sisterhood get together a comfortable safe space is created.  While we provided a brief update to the group, the focus of the evening was for our chapter members to get to know one another.  We reflected on Holocaust Remembrance Day (Yom HaShoah) and then we watched the poignant documentary on our Buidling Bridges Trip to the Balkans.  After absorbing the film, the Jewish women were able to observe the Muslim evening prayer, maghrib, being performed.  But most importantly, you could see and hear the women getting to know one another and talking about a variety of topics for the rest of the evening.
Our gatherings are always energizing  and make me feel that there is hope.  There is hope because I find that the Sisterhood of Salaam Shalom® women share common values of love and curiosity, not hate and fear, of friendship and compassion and we share a common goal of making our world a better place.
–Atiya Aftab, Co-founder and Chair of the Sisterhood of Salaam Shalom®