Building relationships, transforming communities
We embrace the power of Muslim and Jewish sisterhood to spark sustainable social change.
Sorry, we couldn't find any posts. Please try a different search.
What's new from the Sisterhood
Rabbi Amy Eilberg is the first woman ordained as a Conservative rabbi.  She serves as a spiritual director, peace and justice educator, and teacher of Mussar (a classical Jewish system of spiritual development). When I first began my journey of learning to listen to Palestinians and to their perspectives on Israel and Palestine, one thing that I …
Read More

→
It's Finally (Almost) Here! The Sisterhood of Salaam Shalom is thrilled to announce our upcoming Building Bridges International Trip to Morocco! Save the Date: February 20th - 28th, 2023 Please join us for an exciting, enriching, and immersive experience through Casablanca, Marrakech and Essaouira! We will visit places of importance to both Islam and Judaism, …
The Sisterhood of Salaam Shalom strongly supports the investigation of the recent murders of four Muslim men in Albuquerque, New Mexico. We are encouraged by the statement of President Biden that "These hateful attacks have no place in America," and that this Administration strongly stands with the U.S. Muslim community. It is a matter of …
Statement on the Murders in Albuquerque, New Mexico Read More »
Read More

→
The Sisterhood of Salaam Shalom
We harness the power of connection to bridge differences, honor shared humanity, and foster interfaith collaboration.
We are driven by the belief that through listening to one another's stories, Muslim and Jewish women can find common ground and work together toward a future that amplifies minority women's voices and where our shared values supersede our differences.
The Sisterhood of Salaam Shalom fosters a network of Muslim and Jewish women who, guided by common values, mobilize our larger communities to cultivate a more pluralistic, equitable, and democratic societies.
We work in three distinct areas:
RELATIONSHIP & CAPACITY BUILDING
We provide a framework in which Muslim and Jewish women come together to learn from and with one another. Through this process, they hone the skillsets necessary to lead others in transformative conversations.
We train women to understand and challenge stigmatizing narratives and build alliances that strengthen efforts aimed at inclusion, anti-bias, and support for marginalized communities.
COMMUNITY & CIVIC ENGAGEMENT
We promote interfaith cooperation through direct service efforts that build healthy and inclusive communities while strengthening the capacity of local and minority leaders.
Muslim and Jewish women united to build diverse, inclusive, and equitable communities.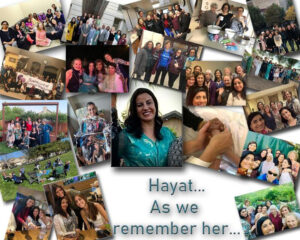 "From our very first conversation, it was the start of a friendship." Eunice and Safeta met through the Virtual Coffee ...
Read Full Spotlight

→